Elda Long

of Kadoka, South Dakota, died on Sunday, November 2, 2008
at the Kadoka Nursing Home at the age of 73
Elda Velda Freiderick was born April 22, 1935, in Tripp County, South Dakota, the youngest of ten children born to John and Emma (Ensminger) Freiderick. Elda grew up and received her education in Tripp County. After her education, Elda left Tripp and moved to Philip where she worked at the Red Owl Supermarket.
Elda was united in marriage to Robert Lyle Long on October 14, 1956, and to this union were born two children Donald Robert on September 10, 1957, and Donna Marie on May 22, 1960.
The Long's lived on a small farm seven miles north of Kadoka until 1981 when they moved into Kadoka, where they have since resided.
Even though Elda suffered from poor health most of her life, her determination and will to overcome obstacles was an inspiration to all who knew her.
Survivors include her husband Robert "Bob" Long of Kadoka; one son Donald Long of Rapid City; one daughter Donna McCauley and her husband Mike of Rapid City; four grandchildren Heather, Robert, Amanda, and Mallory McCauley all of Rapid City; six sisters Hattie Freiderick of Parkston, South Dakota, Alvina Freiderick of Fresno, CA, Helen Burgdale of Yorba Linda, California, Edna Brake of Pittsburgh, PA, Laverna Zeeb of Sioux Falls, SD, and Linda Denke of Ft. Pierre; numerous nieces and nephews; and a host of other relatives and friends.
Elda was preceded in death by her parents and three brothers Herbert as an infant, Reuben, and Melvin Freiderick.
Visitation will be held 5-7 p.m. on Wednesday, November 5, at the Rush Funeral Home in Philip, and one hour preceding the services at the church on Thursday.
(New funeral time) Funeral services will be held 10:00 a.m. Saturday, November 8, at Our Redeemer Lutheran Church in Philip, with Pastor Ray Greenseth officiating.
Interment will be in the Masonic Cemetery, Philip.
A memorial is established.

FUNERAL SERVICES
Friday, November 7, 2008 2:00 p.m.
Our Redeemer Lutheran Church
Philip, South Dakota
CLERGY
Pastor Ray Greenseth
MUSIC
Lynn Seifert – Organist
Congregational Hymns
"Jesus Christ Has Risen Today" #142
"Just As I Am" #148
"Joyful, Joyful, We Adore Thee" #147
USHERS
John Kramer – Sonny Newman
PALLBEARERS
Ron Millage – Joe Millage
Steve Millage – Rich Long
Merlin Bennett – Glen Bennett
HONORARY PALLBEARERS
All Relatives and Friends in Attendance
INTERMENT
Masonic Cemetery
Philip, South Dakota
.
Service Details
FUNERAL POSTPONED TO DUE WEATHER
NEW FUNERAL TIME
Funeral services: 10:00 a.m. Saturday, November 8, at Our Redeemer Lutheran Church in Philip, with Pastor Ray Greenseth officiating.
Intermen: Masonic Cemetery, Philip.
Guest Book
Dear Bob,
What a blessing you were to Elda in all your years together, especially when her health took a life-changing turn. I will long remember her love of laughter but, we will both remember what a great man you are and an incredibly devoted husband.
May the Lord comfort you now and in the days ahead. We send our heartfelt sympathies.
Rocky and Rebecca
~ Rocky and Rebecca Williams Philip (11/2/2008)
Elda never, ever complained even tho so much of the time she was not feeling well. She will be remembered as a hard working mother and a reminder to all of us that we must take what life brings our way and keep smiling. Sympathy to the family, she will be missed by so many people.
~ Betty Lou Stratton Kadoka (11/2/2008)
Bob and family -
May the love of God comfort you at this most difficult time. Rejoice in knowing that she is now in the arms of her Savior and reaping her heavenly reward.
~ Betsy (Ahart) Knodel Freeman (11/2/2008)
Bob, Donna and family, I am saddened to read of Elda's death. I really enjoyed working with her. Keep her memories close to your heart. God Bless you and your family, Stacy
~ Stacy Dole Rapid City (11/2/2008)
Elda was full of courage, compassion and never complained, always had a smile and was interested in others. Bob, you did wonderful in everything you did for Elda. May you find comfort in your loss and peace in your memories. Our sincere sympathy in the loss of a wonderful person who never gave up.
~ Marsha and Bill Sumpter Kadoka (11/2/2008)
Mike, Donna and kids, Our condolences to your family during this hard time. We remember you mom visiting you in Rapid and being so proud of those grandkids! Deb Goodart
~ Goodart Family 5206 Potter Lane RCSD (11/2/2008)
Donna - Our thoughts and prayers go out to you. As a sister-in-law, I have always thought of you as the rock of your family. And this is a testament to the way your folks raised you. Your mother's strength and dedication to the family is a trait she passed onto you, and I know that you will miss her. Take care and comfort in the knowledge that her memory will live on in your heart.
Love, Khosrow & Maury
~ Maury & Khosrow Golshan Laguna Beach, CA (11/2/2008)
Dear Bob,
I am so sorry to learn of Elda's passing. I have such found memories of her when we would come to visit. She was always so positive about life and I only remember seeing her smiling. My thoughts and prayers are with you and your family.
Tracy Gernentz (Long)
~ Tracy Gernentz Rosemount, MN (11/2/2008)
For now and always, may your sorrow be softened by the presence of caring friends, nature's tranquility and your own inner strength, and the healing powers of the memory of your Wife, Mom,& Grandma visit you in quiet moments this is my thoughts and prayers for all of you.
~ Cindy Blasy 640 Box Elder Rd. w Box Elder SD. (11/2/2008)
Bob & Family,
My thoughts and prayers are with you during this difficult time. I just heard of Elda's passing, and wanted to let you know I am thinking of you. I have many fond memories of going out to the farm when we lived in Philip. Take care & God Bless!
Jim Ahart
~ Jim Ahart Alcester, SD (11/2/2008)
Flowers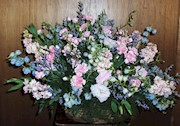 Your Loving Family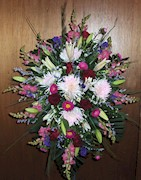 Your Loving Family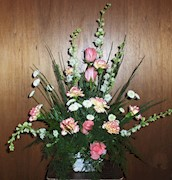 The Vogelgesang's, Jim & Kathy Rock and Family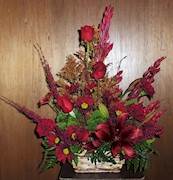 Friends at Rushmore News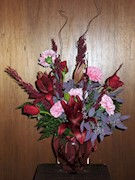 The Nieces and Nephews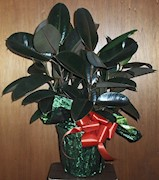 Bill, Sheryl and Family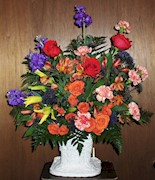 Khosrow and Maury Golshan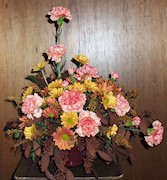 Charlotte Schainost and Family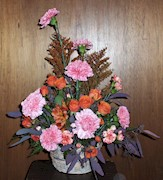 Debbie, Brandon and Cassie